I think it's safe to say that we've all been watching a lot of TV over the past year. Even those of us, like me, who are generally more interested in movies than TV, have found ourselves seeking stories that we can get more immersed in and that can take us on if not more significant, then at least more time consuming journeys. 
I'm not at all prepared to make any major statements on what TV shows can offer us that movies can't besides their runtimes, but I want to celebrate some of the shows that I've enjoyed over the past year. 
I may write a few of these lists, but to begin I'm going to do one focusing on some (mostly) new live action shows I've enjoyed, and then another list soon on animated shows. So without further ado, here are 6 of the shows that have been getting me through quarantine. 
The Flight Attendant (HBO Max)
The Flight Attendant is my favorite new show. I've already written a full piece about how much I loved it over at Cultured Vultures and now I want to shower it with more love here. The show manages to mingle the broad genres of thriller, comedy, and relationship and addiction drama along with the more specific genres of corporate (and possibly international) espionage, gangster, and even a bit of horror. 
While a lot of shows mix genres, The Flight Attendant manages to stand above the rest because it plays every single one of the genres perfectly and the characters move believably through each of them. The entire cast, led by Kaley Cuoco, is fantastic and makes all of these characters, from the concerned brother to the fixer whose very comfortable killing people to keep them quiet, feel like real people. 
The Flight Attendant is the only show in recent years that's managed to make me laugh out loud, wince, and almost cry all within the same episode, and that's something special. 
High Fidelity (Hulu)
I was skeptical going into High Fidelity. I didn't care for the movie (Empire Records is my record store movie of choice) and while there have been some successes, I'm still generally more nervous than excited about the gender swapped reboot/remake/reimagining. But as a fan of Zoë Kravitz and looking for something easy to watch while stuck inside, it seemed like a good option. 
And I was absolutely blown away. The significant changes from the movie (and maybe book, I won't speak to that as I haven't read it) are all for the better. The original record store trio of straight white guys played by John Cusack, Jack Black, and Todd Louiso are replaced by two black women and a gay white guy played by Kravitz, Da'Vine Joy Randolph, and David H. Holmes respectively, figuratively and literally lending more color to the cast. And because this is TV, the secondary characters get more time on screen, with a later episode in the first season dedicated entirely to Holmes' Simon, and season 2 reportedly focused on Randolph's Cherise. 
It's hard to say what exactly works for me here that doesn't work in the movie. It may be an issue of age and time, seeing the record store decorated with stickers and posters from bands I love (it's not often that you see Tacocat or Lingua Ignota and The Body march represented on TV) made me smile everytime I noticed another detail. But I think it comes down the characters and performances, Kravitz is delightfully charming as always as Rob (short for Robyn), even when she's doing something incredibly frustrating, Randolph is immediately recognizable as "the Jack Black character" but she fully makes the role her own, and Holmes makes the quiet and shy employee who I entirely forgot about in the movie one of my favorite characters. 
The fact that (as of now) we won't be getting a second season of this iteration of High Fidelity sucks, but I'll almost certainly be returning to the 10 episodes we do have just to spend more time with these characters in this store.  
The Great (Hulu)
I only realized a few episodes into The Great that it was created by co-writer of The Favourite, Tony McNamara. This was after my partner and I had already agreed that it felt very similar to The Favourite in many ways, but especially in the delightfully snappy, irreverent, and almost certainly anachronistic dialogue. All this to say that if you at all enjoyed The Favourite, you really should watch The Great, it even has Nicholas Hoult. 
While coming to a show as a fan of the creator makes perfect sense, I came to The Great as a fan of Elle Fanning. She's become one of my favorite actors over the last few years with her roles in The Neon Demon, 20th Century Women, and The Beguiled, she's even able to create a truly great scene in the otherwise disappointing How to Talk to Girls at Parties through sheer commitment. 
The Great's plot reads more like Game of Thrones than Silicon Valley, there's court intrigue, murderous plots, and more than one violent death depicted on screen. But the writing and performances make it such a fun and comfortable viewing experience that it mostly ends up feeling like a gorgeously costumed hang out movie. 
Search Party (HBO Max)
Search Party was recently renewed for a fifth season, and based on the four seasons we've had so far I have no idea what that will look like. That's what makes this show so exciting. I can't think of any other show that has managed to take so many hard turns and somehow make them all work. Each season thus far has had at least one moment that feels like it should be jumping the shark, but the cast and creative team are able to keep things coherent. 
The show manages to achieve an almost awe inspiring tonal balance between ridiculous comedy and troubling sequences and material. My friend who introduced me to the show compared the tone control on display here to the Coens' and Paul Thomas Anderson's films that can veer between laugh out loud comedy and painfully tense suspense sequences. Search Party's fourth season has one of my favorite comedy sequences of all time in the same episode as a genuinely disturbing plot line about abduction.
The cast is also fantastic, and I am shocked that Alia Shawkat hasn't received any awards recognition for her lead role as Dory, a character I think is fair to compare to Walter White. 
Gossip Girl & Pretty Little Liars (both HBO Max)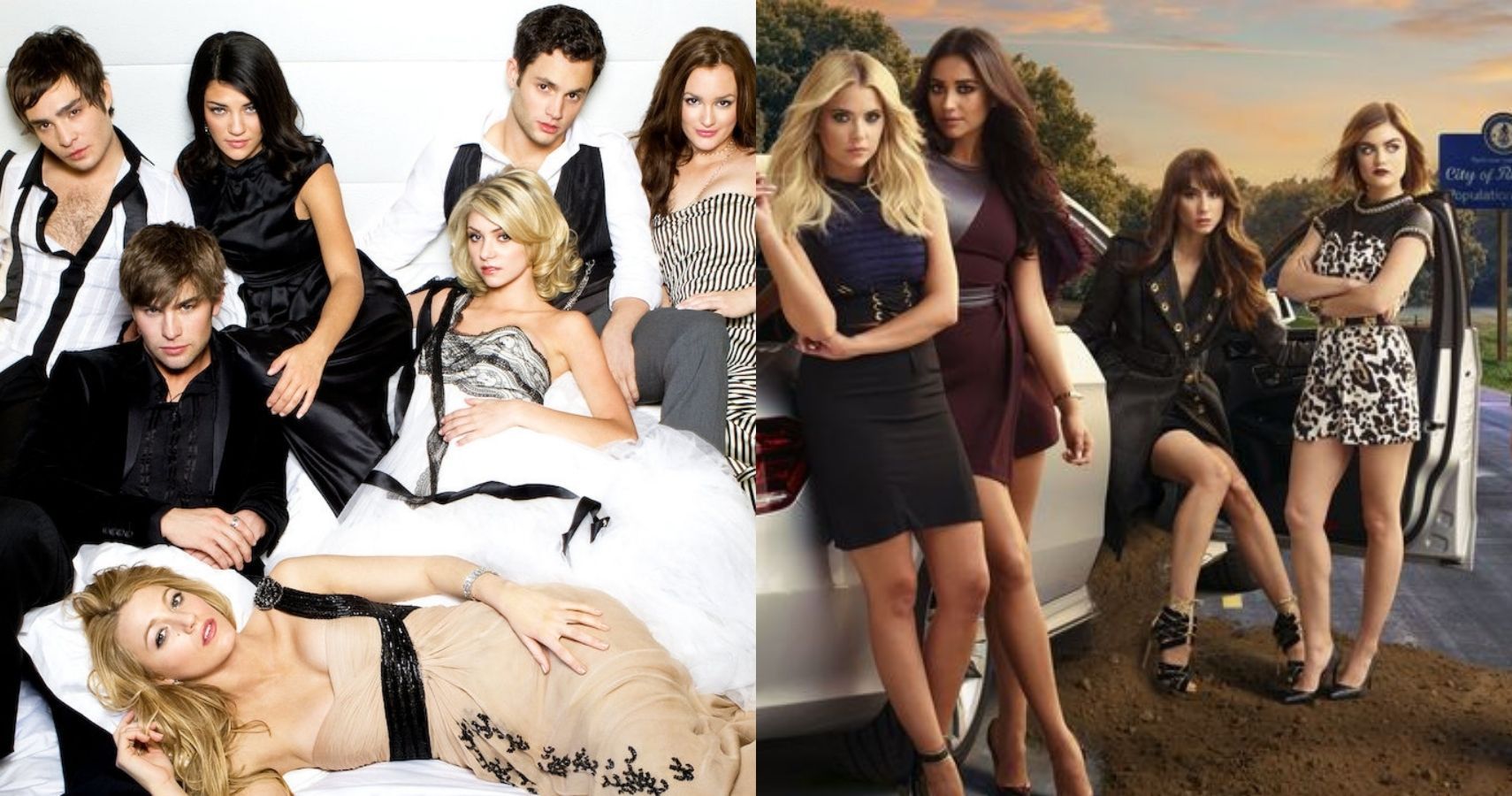 HBO Max has an incredible catalog. You can watch films from the Criterion Collection, every show HBO has ever produced, every Studio Ghibli film, and two of the best high production value soap operas about teens ever made. Pretty Little Liars and Gossip Girl may not be as lauded as many of the shows and movies that they sit alongside on the service but they have been two of the most comforting and consistent shows that I've watched over the last year. 
I've already written about how Pretty Little Liars is filled to the brim with horror references, but beyond the clear love for a genre that I share with the creative team, PLL offers some of the most dependably ridiculous plotting I've ever seen. Characters are revealed as enemies only to become even stronger allies the next episode, characters disappear for episodes at a time and reappear as if they'd been there the whole time, near the end it feels like the writer's began throwing darts at a word cloud and challenging themselves to make it all fit. But none of this is a criticism, in fact it's what makes the show so watchable. Well that and the central characters that it's (mostly) impossible not to root for and become invested in.
While I know nothing of their production histories, it's hard to imagine that the success of Gossip Girl didn't have an effect on Pretty Little Liars becoming a show three years later (Gossip Girl premiered in 2007, PLL followed in 2010). Gossip Girl is also filled with beautiful 20-somethings playing wealthy teens who get involved in major scandals, often hinging on social media and camera phones. While Gossip Girl doesn't have the horror or thriller aspects of PLL and thus doesn't reach the same level of ridiculousness on the plotting front, it does have a small group of lead characters who are constantly rotating partners with the couplings often changing multiple times per season. It also takes place on the Upper East Side and is always lavishly set-decorated and if not beautifully at least interestingly costumed. Gossip Girl is also one of the few shows that I watched in high-school and have returned to as an adult which brings its own nostalgic joy, and I'm not at all embarrassed to admit that I am still as invested as ever in Chuck and Blair. 
Both Gossip Girl and Pretty Little Liars are set to be rebooted on HBO Max, with the Gossip Girl reboot airing later this year, and I'm simultaneously excited and nervous about the prospect of returning to these worlds years later with new casts.